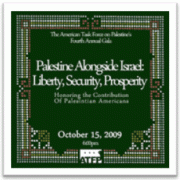 Washington, DC, Oct. 16 -- At the Oct. 15 Fourth Annual Gala of the American Task Force on Palestine (ATFP), the National Security Advisor, General James L. Jones, reiterated [32] the Administration's commitment to establishing a Palestinian state and determination to move forward with peace talks.

"We are clear, unambiguous and consistent," said Gen. Jones, "The time has come to relaunch negotiations without preconditions to reach a final status agreement on two states." The National Security Advisor emphasized that, "President Obama's dedication to achieve these goals is unshaken, is committed, and we will be relentless in our pursuit of achieving these." He said that ending the conflict and the occupation is essential because what is at stake is "nothing less than the dignity and the security of all human beings." "We must move beyond talking about talks and get to the hard work of addressing the core issues that separate Israelis and Palestinians," Jones said.
In his introduction [33] to Gen. Jones, ATFP President Ziad J. Asali praised the National Security Advisor's "profound grasp of the integral relationship between politics, security and economic development, and his fairness in being able to see the perspectives, and understand the requirements, of both Israel and the Palestinians. " In his welcoming remarks [34] to the Gala, Dr. Asali said that, " The occupation simply must end. Yet many peoples have attained independence only to fall prey to despotism, chaos, bad or even failed governance, or close-minded obscurantism. For their own sake, courageous Palestinians have begun a new policy to build, in spite of the occupation, the foundations of a society and state in which every citizen is afforded both the rights and responsibilities of liberty."
At the black-tie Gala in Washington, DC, ATFP honored three prominent Palestinian Americans: Dr. Najat Arafat Khelil [35], Prof. Shibley Telhami [36], and Dr. Fuad Jubran [37]. It also presented a Special Recognition commemorating 20 Years of US-Palestinian diplomacy to Amb. Robert H. Pelletreau [38], the American official who initiated the first formal contacts with the PLO 20 years ago, which was presented by the head of the PLO mission to the United States, Amb. Maen Areikat. The Gala was also presented with letters of support and commendation from Palestinian President Mahmoud Abbas [39] and House Foreign Relations Committee Chairman Rep. Howard Berman [40] (D-CA). Maysoon Zayid's comedy performance [41] delighted the audience of over 650, which included members of Congress, current and former senior administration officials, ministers and ambassadors from numerous states, prominent policy analysts and journalists, and noted Palestinian and Arab Americans.
To experience ATFP's Fourth Annual Gala please click on the corresponding links in the gala program below.
Reception
Master of Ceremonies [42]
Hussein Ibish, Ph.D.
Senior Fellow, ATFP
Welcome [34]
Ziad J. Asali, M.D.
President, ATFP
* * *
Presentation of Awards
ATFP Award for Lifetime Achievement [35]
Dr. Najat Arafat Khelil
Presented by
H.E. Dr. Chekib Khelil [43]
Minister of Energy and Mines of Algeria
American Charities for Palestine [44]
Hussein Ibish
Letter from T.H. Representative Howard Berman [40]
Delivered by
Hussein Ibish
* * *
Dinner
Comedy Performance [41]
Maysoon Zayid
* * *
Presentation of Awards
ATFP Award for Excellence in Scholarship [36]
Dr. Shibley Telhami
Presented by
T.H. Ambassador Richard Murphy [45]
ATFP Award for Excellence in Science and Medical Education [37]
Dr. Fuad Jubran
Presented by
Mr. Samer Khoury [46]
Executive Vice President of Operatons, Consolidated Contractors Company
Special Recognition: 20 Years of U.S.-Palestinian Diplomacy [38]
T.H. Robert H. Pelletreau Jr.
Presented by
T.H. Ambassador Maen Areikat [39]
* * *
Keynote Address
Ziad J. Asali [33]
Introduces
General James L. Jones, USMC (Ret) [32]
National Security Advisor
* * *
Silent Auction [47]
Click here [49] to see more pictures from the Gala or you can click here [50] to proceed through the program sequentially.
Media Mentions
The Washington Post [51]
Dar Al-Hayat
[52]The Daily Star
[53]Arab News [54]
Agence France-Presse (AFP) [55]
Jewish Telegraphic Agency (JTA) [56]
C-SPAN [57]
The Jerusalem Post [58]
Politico
[59]