Press Release
FOR IMMEDIATE RELEASE
Contact Information: Ghaith al-Omari


[2]
December 15, 2010 - 1:00am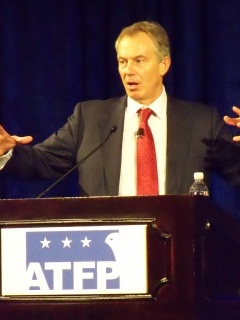 Washington, DC, Dec. 15 -- TRH Tony Blair, the Representative of the Middle East Quartet, called today for more international "support for [Palestinian] Prime Minister Salam Fayyad and the state-building effort." He stressed that these efforts should continue and intensify in the context of seeking a negotiated two-state solution. Mr. Blair's remarks were made at a Washington event hosted by the American Task Force on Palestine (ATFP), attended by around 200 Administration officials, foreign ambassadors and members of the Arab-American community. He called for Palestinians to be supported in their efforts to develop and build institutions in not only Areas A and B but in Area C as well.
Mr. Blair is the former UK Prime Minister who as a representative of the Middle East Quartet works with the Palestinians to prepare for statehood as part of the international community's effort to secure peace. He said, "I am and always have been an advocate of Palestinian statehood," and pointedly asked, "what's the alternative?"
Mr. Blair stressed the need to treat the Palestinian Authority's institution-building program as a political project aimed at extending PA jurisdiction over more areas of the West Bank, improving accessibility to the Gaza Strip, and creating palpable benefits in East Jerusalem. He said, "This requires not only a top down effort but also a state-building effort that shows the process is not disconnected from people's lives." He added, "We do actually have a consensus of desire in the Middle East to reach this goal. The Arab Peace Initiative gives us the context in which we can reach peace. President Obama said this is a strategic interest for the United States and the whole of the world. We can never afford to give up. It is worth continuing, never yielding the ground to extremists who do not want peace, and continuing on until we get the deal done."
ATFP President Ziad Asali said, "We are honored by Mr. Blair's presence today and by his choice of ATFP as a forum to address the Arab-American and pro-Palestine community. We agree with his focus on the need to support the state-building program of the Palestinian Authority, in parallel with efforts to resume negotiations. The state-building program creates positive changes that improves the lives of Palestinians, and also generates momentum towards the creation of a Palestinian state. A convergence of the indispensible diplomatic track and the institution- and state-building track is the best path towards the realization of our American national interest in having two-states, Palestine and Israel, living side-by-side in peace and security."
To watch video footage of TRH Tony Blair's remarks, click here [3].