Press Release
FOR IMMEDIATE RELEASE
Contact Information: Mohammed Maraqa


[2]
May 28, 2009 - 12:00am
Washington, DC, May 28 – The American Task Force on Palestine (ATFP) is proud to announce that its sister organization, American Charities for Palestine (ACP), has initiated the delivery of laptop computers to schools in Palestine.
This project has been coordinated with One Laptop Per Child, the US Agency for International Development (USAID) and the Palestinian Ministry of Education.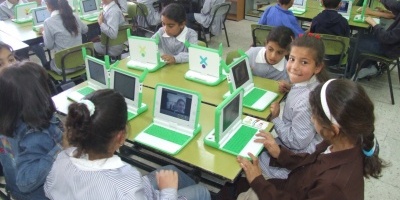 The Palestinian Ministry of Education has finished training workshops in four districts (S. Nablus, Salfit, Ramallah and Bethlehem) and is preparing for a second workshop for more Districts (Hebron and Qabatia) as well as UNRWA coordinators.
1007 laptop computers have been distributed to 3rd graders in 13 gender-balance schools.
ACP President Ziad J. Asali said: "This is a great example of what can be done to help the Palestinians as a result of the Memo of Understandin [3]g signed between ACP and USAID. This donation is worth $200,000 and will have a real and lasting impact on the education of many students in Palestine."
For more images of this project and to find out how you can donate to help this important work click here. [4]