SECRETARY OF STATE Condoleezza Rice delivered the keynote speech [7] at the American Task Force on Palestine's (ATFP) Inaugural Gala at the J.W. Marriott in Washington, DC on Oct. 11, 2006. Proceeds from the gala went to Palestinian hospitals in Jerusalem and Nablus, and to Palestinian refugees in Gaza.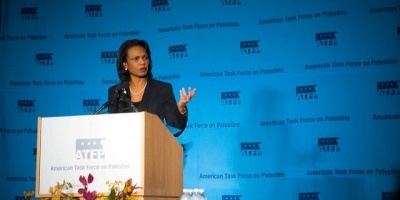 Having just returned from her sixth visit as secretary of state to Israel and the Palestinian territories, Rice captured her audience's attention with her opening words. "These are, without a doubt, difficult and challenging times. And I know that the past few months have been especially trying," she said. "In many places across the region—from Lebanon and Iraq, to the Palestinian territories and Israel—the images of violence, the stories of suffering, the deaths of innocent people are hard for all of us to bear."
Rice reiterated President George W. Bush's "deep conviction that the Palestinian people deserve a better life—a life that is rooted in liberty and democracy, uncompromised by violence and terrorism, unburdened by corruption and misrule, and forever free of the daily humiliation of occupation."
America's top diplomat then seemed to forget she was addressing a Palestinian-American audience, which listened in increasingly uncomfortable silence. Without mentioning recent Israeli violence in Lebanon, Gaza or the West Bank, Rice launched into this administration's recurring themes.
"It is my belief, and that of President Bush," she stated, "that when we look at the recent actions of radicals in Hamas and Hezbollah, or at the violence of terrorists and militias in Iraq, or at the policies of governments like Syria or Iran, we are witnessing a campaign of extremism—not always commonly planned, but sharing a common purpose: to roll back the promise of a hopeful Middle East, where security, and freedom, and opportunity can expand."
For good measure, Rice repeated what she sees as the stumbling blocks on the road to peace. These apparently do not include, however, Israel's wall, checkpoints, settlements, arrests, incursions, home demolitions and targeted assassinations. "A Palestinian partner for peace needs to accept three principles: the disavowal of terror and violence, the recognition of Israel's right to exist, and the acceptance of all previous agreements between the parties, including the road map, which is the only internationally agreed-upon framework to create a Palestinian state," Rice informed her listeners. "At the same time, we fully support President Abbas, and the growing number of his fellow citizens, who are urging Hamas to put the interests of the Palestinian people ahead of their own rejectionist agenda."
One high point of Secretary Rice's speech captured headlines around the world and raised hopes (however briefly) for a shift in U.S. policy. "I know that sometimes a Palestinian state living side by side in peace with Israel must seem like a very distant dream," Rice conceded. "But I know, too, as a student of international history, that there are so many things that once seemed impossible that, after they happened, simply seemed inevitable."
The fact that she, herself, is now the U.S. secretary of state—after growing up in segregated Birmingham, Alabama—shows that dreams can become reality, Rice said.
She recognized her audience's hope, she said, "that one day there will be a Palestinian state living side by side in peace with Israel. I can only tell you that I, too, have a personal commitment to that goal because I believe that there could be no greater legacy for America than to help to bring into being a Palestinian state for a people who have suffered too long, who have been humiliated too long, who have not reached their potential for too long, and who have so much to give to the international community and to all of us. I promise you my personal commitment to that goal."
After giving the audience words they could finally applaud whole-heartedly, the secretary, her bodyguards—and, sadly, almost all of the press—left. Thus they did not hear the impassioned words of the next speaker, Ambassador of Saudi Arabia Prince Turki al-Faisal, whose speech [8]changed the atmosphere dramatically, with frequent interruptions of wild applause.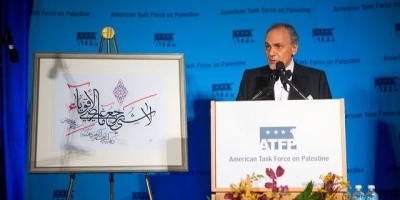 After praising the achievements of Palestinian Americans, whom he described as "shining examples" for Palestinians and Americans across the globe, Prince Turki turned to the Arab-Israeli conflict, in his words an "impediment to international stability."
"For too long," Prince Turki said, "the Palestinian people have endured great injustices and hardships. Many thousands live in hopeless poverty and thousands more have been uprooted from their homes and forced to live in diaspora. All have been deprived of minimum human and national rights. And their plight has been an open wound constantly irritated by unjustifiable occupation, painful oppression, terrorism, and deep-rooted enmity."
It's time for the global community to secure a solution to this conflict that afflicts us all, Prince Turki declared. "It is no longer simply a regional necessity," he argued, "but a global imperative to find a peaceful resolution to this conflict...
"No one can deny that the resolution of the Palestinian-Israeli conflict will drive solutions to other regional issues—Lebanon, Iraq, Afghanistan, terrorism, and others—all problems impacting the stability and prosperity of the entire global community," he noted.
Prince Turki went on to describe then-Crown Prince, now King, Abdullah's peace plan put forth at the Arab Summit in Beirut in March 2002, and Bush's road map, which still stand as the best hopes for peace. "Let them be implemented," he challenged.
Politely alluding to Secretary Rice's remarks, the Saudi diplomat went on to say: "There is a view that the final borders between Palestine and Israel, the refugee problem, the issue of Jerusalem, cannot be discussed before the security situation is resolved. This view says that you cannot have a Palestinian state before the Palestinians begin to act as citizens of a state. They have to prove that they are worthy, before they are rewarded with their own country."
Prince Turki reminded the audience that American colonists fought for their independence and their rights. "These were the same Americans who coined the words 'inalienable rights,'" he pointed out. "Alas, the grandchildren of these very same people now deny the Palestinians their 'inalienable rights.'
"I tell you that it is a pity that you have been blessed with such bounty, yet you still deny others the same rights for which your ancestors fought and shed blood," Prince Turki continued. "Occupation and oppression drive the Palestinians to violence. To paraphrase one of your patriots: 'Give them liberty or give them death.'"
Given the problems facing the U.S., terrorism and the war in Iraq, Prince Turki recommended a strong push for the Middle East peace process. "The political reality is that, in terms of public opinion, U.S. standing in the Middle East is at its all time low," he noted. "Something must be done to reverse that, lest it continue to fuel tensions and bring about new problems. Action needs to be taken, and U.S. policy toward the Middle East needs to change."
Prince Turki said Secretary Rice's words encouraged him, but that when it comes to Middle East peace, "hope is too easily dashed." Words are not enough, he concluded: "We need to act."
In honoring the contributions of Palestinian-American professor Mujid Kazimi, director of the Massachusetts Institute of Technology's Center for Advanced Nuclear Energy Systems, Ambassador Afif Safieh, head of the PLO Mission to the United States, paid tribute to Palestinians in the Diaspora.
"This geographic dispersion is the symptom of our tragedy, our ordeal, our Nakba-Catastrophe," Safieh said. "This demographic scattering could become a major source of our future empowerment." Palestinian Americans could "play a decisive role in the achievement of our national goals," the ambassador explained, "since it is here in Washington that our battle for independence and statehood will be won or lost....
"America is a fascinating society," Safieh observed. "It is a nation of nations. The world in miniature. All countries, all cultures, all civilizations around the globe are represented within American society. This is why it is not far-fetched to expect, hopefully soon, American even-handedness in its dealings with the Arab-Israeli conflict...
"The fact that we became unreasonably reasonable makes American even-handedness in the Middle East much easier," the Palestinian diplomat concluded. "We are not inviting America to sacrifice a traditional friend: Israel. We are offering America an additional one: Palestine."
—Delinda C. Hanley
Click here [9] to see more pictures from the Gala
Keynote Address by Secretary of State Dr. Condoleezza Rice [7]
[10]
Feature Presentation by H.R.H. Prince Turki al-Faisal [8]
Address by ATFP president Dr. Ziad Asali [11]
Address by Mahmoud Abbas, President, Palestinian Authority [12]
Address by Senator John E. Sununu [13]
Address by Governor John H. Sununu [14]
Address by Senator Carl Levin [15]
News Items
Rice: Palestinians Deserve Better Life [16]
Washington Post
'No greater legacy for America' than a Palestinian state: Rice [17]
Khaleej Times (UAE)
Rice says US wants end to Palestinian "humiliation" [18]
Reuters

Rice pledges Palestinian entry support [19]
Jewish Telegraphic Agency
Rice says US wants end to Palestinian 'humiliation' [20]
Yedioth Internet
Rice and Olmert need fresh ideas [21]
Gulf News (UAE)
By George S. Hishmeh, Special to Gulf News
Rice: Palestinians should live free of 'humiliation of occupation' [22]
Ha'aretz (Israel)
For Rice, it's Time for Palestine [23]
By Shmuel Rosner and Aluf Benn [Download as PDF [24]]
Haaretz (Israel)
Rice's Remarks on Palestinian 'Humiliation' Offend Israelis [25]
By Julie Stahl
CNSNews.com
Jerusalem Bureau Chief
Rice: No greater legacy than 'Palestine' [26]
Jerusalem Newswire (Israel)
By Stan Goodenough

Rice Probes Travel Limits on Americans [27]
By Nicholas Kralev
Washington Times
'No Greater Legacy for America' Than a Palestinian state: Rice [28]
Agence France Presse
Rice Affirms U.S. Commitment to Creation of a Palestinian State [29]
International Information Programs
U.S. Department of State
APN Welcomes Secretary Rice's "Personal Commitment" to Achieving
Israeli-Palestinian Two-State Solution [30]
Americans for Peace Now
Getting Out of the Box [31]
By MJ Rosenberg
Israel Policy Forum
Rice Pledges Palestinian Entry Support [32]
Jewish Telegraphic Agency, Breaking News
October 12, 2006
Rice: No Greater Legacy for America than Establishing Palestinian State [33]
Al-Hayat (Lebanon/in Arabic)
Rice: Hamas Must Choose Terrorism or Peace,
Turki: U.S. Must Implement Roadmap [34]
Al-Hayat (Lebanon/in Arabic)
Rice offers Hamas olive branch [35]
By Claude Salhani
UPI